---
A little introduction from the "Artist" creators
While researching Yekaterinoslav history and meeting many enthusiasts and collectors, we managed to acquire many interesting documents, stored in the dusty archives of the city library. Those papers, related to this mansion, surprised us with the description of its unusual architecture and history.
Among all the old photographs and newspaper clippings some letters, written by a certain Vl. Pertsov to an unknown lady, caught our eye. They are very poorly preserved, but some parts were still readable. And these passages give a very detailed description of the mansion and its unusual appearance. Unfortunately, this magnificent building could not withstand the storms of wars and revolutions of the twentieth century. It is not precisely known what caused its destruction, but from the letters of Pertsov we learned the history of its foundation. Whether it is true or not – decide for yourselves. But we would like to share our favourite passages from the correspondence, in which the author describes the building he greatly admired. Read them and you will understand why we decided to reconstruct this mansion and recreate its atmosphere.
Selected Passages from Correspondence
«Dear friend, there has been such a long silence from you. I hope you received my letter from Port Said, as well as a business letter from Pondicherry, French India. Today I will continue my description of Yekaterinoslav and its narrow streets, which I enjoyed walking along while staying with Sophia Lvovna. In my last letter I wrote to you about the Cathedral of Transfiguration and today I shall talk about the building of a much smaller scale but of a great curiosity ...»
"... there is an amazing place in Yekaterinoslav, lost among the old houses on Cathedral Square. A now fashionable in Europe word "club" has stuck to it. It has long been frequented by artists, writers and actors. Here, among the easels and unfinished sketches, one can feel a restless spirit of Art. This mansion surprised me with its architecture, so alien to these streets that it stands out with its unusual flavor.
As I heard from a regular of this "Club", the mysterious house is owned by a wealthy philanthropist and a patron of arts. His dinner parties are known to welcome all noble citizens and cream of the crop of Yekaterinoslav. Quite often, they present their own creations to decorate the house.
Among the various legends about the origin of this house, I especially liked the following one. They say that it had stood for half a century on Marché aux Fleurs Square in Montpellier (if you remember, I wrote about it in my impressions from a trip to the southern coast of France). In the turbulent years of the bourgeois revolution it was dismantled and sailed, piece by piece, across two seas, and delivered right on the square in Yekaterinoslav where its owner decided to spend the rest of his days in the shade of Ukrainian poplar trees, leading the same life in the same environment, surrounded with old memories.
The interior of the mansion recreated his beloved places. "Cafe", where he spent his youth, "Winter Garden" of his parents' house and the old "Dining room" at his grandfather's - a place of celebrations and family unions. All together, these amazing rooms are intertwined and miraculously form a world full of comfort and extraordinary spiritual depth to which you want to return again and again ...»

Summer terrace
"Upon arrival we were welcomed by a wonderfully arranged "Summer terrace" right in front of the house. Here, visitors can leisurely have their breakfast or just a cup of coffee outdoors. You can order a more substantial meal if you are not in a hurry and the weather is favorable. This place like no other suits romantic dinners and leisurely conversations. I have drunk my morning coffee and continue sitting here, watching cabs sweeping by and nannies walking with their kids in charge".
First floor: "Cafe"
"On the first floor of the mansion there is a «Cafe ". Its walls are hung with works of the artists who used to come here as frequent guests, photos of friends of the house, as well as posters to the famous performances. The room is the replica of the cafe where, as a young man, the master of the house spent many happy hours meeting his friends, artists, and gallerists. The atmosphere is truly democratic and creative here.
The massive bar of dark wood and the walls, adorned with antique panels, create the right atmosphere for a friendly chitchat. And numerous paintings, photographs and posters set up a creative mood and evoke inspiration. There is nothing like visiting this "Cafe" for a cup of delicious coffee, while discussing spiritual matters with your companions. I wanted to keep on writing to you all night long, but my words fail me. Sorry, I will continue tomorrow".
Second floor: "Winter Garden"
"Winter Garden" - a witness of how the interior found expressed concern and love for his beloved master. She loved her garden in winter incredibly sad about the silence of green paths and the rustle of leaves. To comfort his beloved, in one of the halls of the mansion he embodies an exact copy of the master of this garden, a family friend of the sketches of Paul.
"Winter Garden" is the expression of love and care of the master of the house to his beloved lady. So great her love to her garden was, that she spent all winters silently longing for green paths and the rustle of the leaves. So, in desire to comfort his wife, the owner ordered one of the rooms of the mansion to be converted into the copy of the garden, using the sketches drawn by Paul, the friend of the family.
This unusual interior proved to be very successful. So in summer days the whole family has rest in the "shade and cool" of its painted trees, and in cold winter evenings everyone gathers in front of a large antique fireplace decorated with carved marble pattern of the Italian masters. Cuddled in blankets, snug with a good book, we sat there drinking a cup of hot chocolate.
Secret doors of the winter garden are visible only to a very attentive guest. They open to the kitchen, the quarters of the Japanese Chef, brought by the host's wife from one of her voyages around Far East. All the exquisite dishes were served to us through these doors.
I have just dined alone, as Sofya was invited to visit the governor, Igor Valerich, I told you about him in my precious letters. In the evening I'm going there, too. But I feel so strange being among people without you; they pass like shadows, and my heart has little interest in them as it is filled with you."
Third floor: "Dining"
The "Dining Room" is an ancient hall, housing all the family unions. Strict paneled interior bears the spirit of celebrations and commemorative events. Its walls are adorned with beautiful paintings by various artists. They are waiting for new guests coming here to have their festive dinner.
The Dining Room is especially comfortable for a big company, Imagine serving the entire length of the table and indulging in revelry with friends and family. This room is particularly good because it allows you to close the glass doors and have privacy with your company. But being in the most cheerful environment of all, I can't stop thinking of you. I keep asking you to send me your portrait. It will make me the happiest man to ever live on this Earth."
Third floor: "The upper terrace"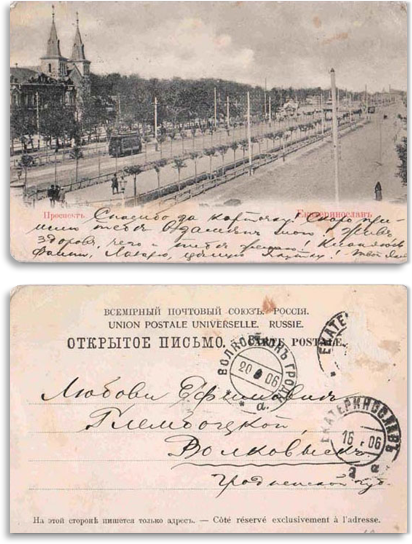 "On warm summer days, it is nice to sit in the cozy "Upper terrace" located on the third floor of the building and enjoy the magnificent view of the park. After all, nothing is better for dreamy moods and brilliant ideas, like fresh air and closeness to nature.
The owner himself loves to set his easel here and, armed with a brush and a palette knife, paint the beauty of the park. Imagine that you've lived all your life in the valley and thought that the whole world is the same, and, suddenly, went up the mountain and saw that the horizon spreads endlessly, and that behind the hill there is another world, and all that you imagined about this world is wrong…"
"But now it is time to say goodbye. I will enclose some cards with Yekaterinoslav views. Hope, you like them. Write to me at least once a week. I'm going to send this letter with pigeon express for a prompt delivery. "
Yours ever,
Vl. Pertsov
Top